This project was driven by my progress as a student of the 2019 cohort at University of Washington's Continuing Education Certificate in UX and Visual Interface Design. It comprises three courses: UX Design Thinking, Applied UX Design, and Integrating UX with Interactive Visual Design. Here is a link to the program: https://www.pce.uw.edu/certificates/ux-and-visual-interface-design. Our first instructor, Scott Scheff, randomly assigned us to groups and problem statements.
Our group was dubbed "Workplace Wellness" and the statement is as follows: "More and more people are feeling emotional exhaustion and lonely at work. Workplace burnout affects people across professions and is pervasive up and down corporate hierarchies. How might we inspire experiences and expressions of gratitude and social support in the workplace?"
Problem
People are feeling emotionally exhausted and lonely at work.
Success Metric
Increase emotional satisfaction and sense of community at work.
Timeline
The three courses in the UI/UX Certification spanned from January 2019 through June 2019 for a total of 6 months. 
For the first course,
UX Design Thinking,
I worked with five other people, and together we researched and came up with a rough prototype in which we tested. 
For the second course,
Applied UX Design
, I worked on my own to come up with the information architecture, content structure, and evaluated user flows on the project. 
Group Members & Instructors
UX Design Thinking, Course 01
After a lecture outlining the basics and history of UX Design thinking, a guest speaker introducing us to the field, and some icebreakers, we were introduced to the 3 problem statements and broken out into groups of 6, and we became the Workplace Wellness team.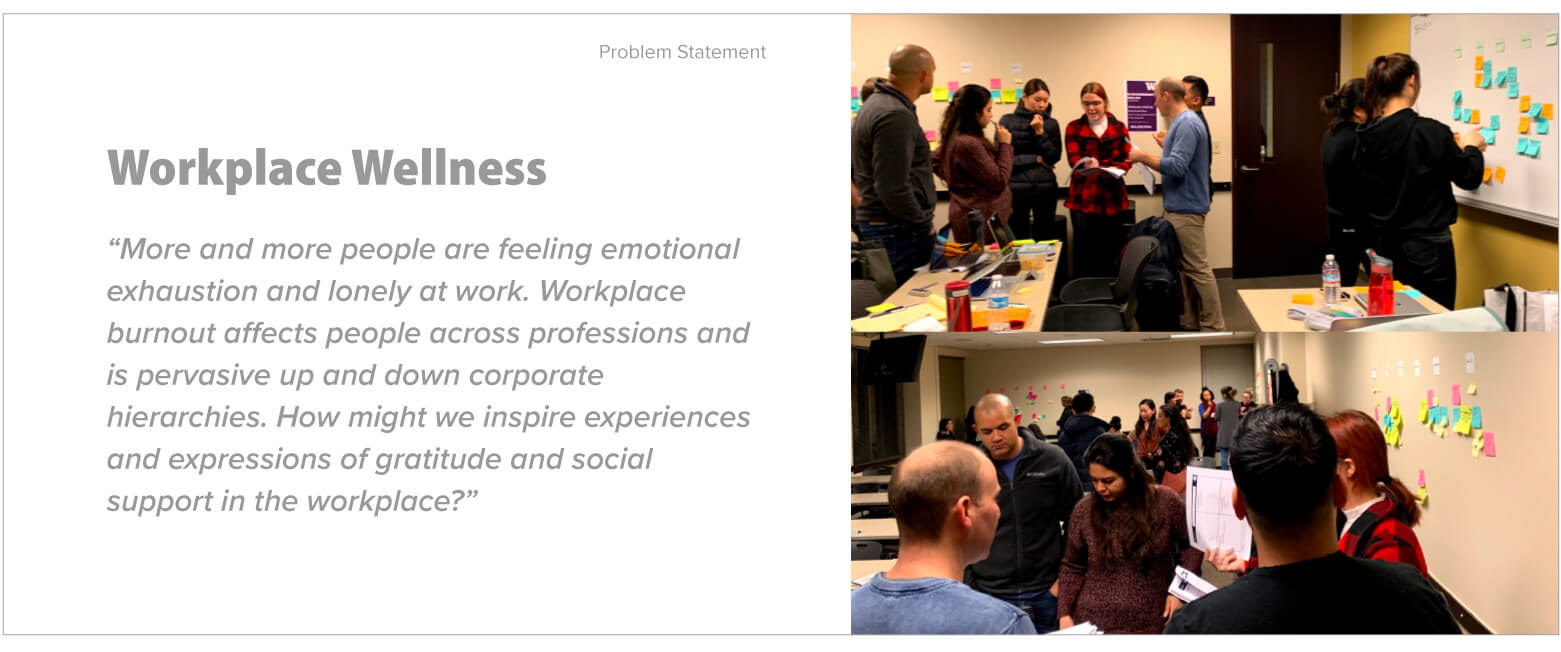 After a lecture on primary and secondary research, each group member researched a particular topic about workplace wellness, and built a shared research notebook.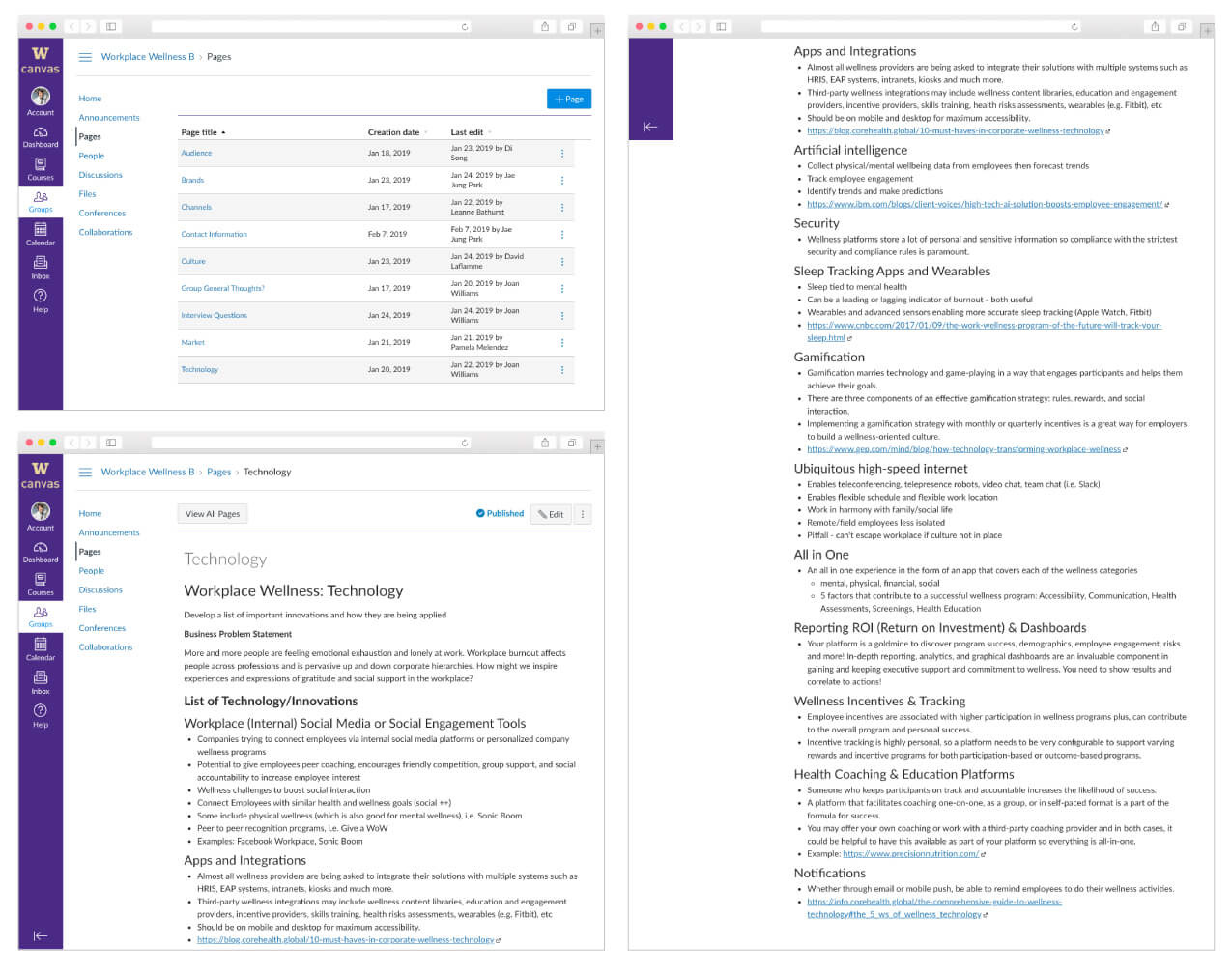 Using sticky notes, we organized all of our ideas surrounding wellness in the workplace and from these ideas developed a discussion guide and interview questions.
We each interviewed two people trying to figure out how the workplace could better serve the employee. This was extremely insightful as we found it was not apps, emails, or reminders that make the workplace better or worse, but it was the individual relationships and people within the company that could make or break your experience.
Some examples were that most people left their jobs because of bad management and no opportunities for growth. People felt good when they were doing meaningful work, were supported by management, and felt like they have an opportunity for advancement.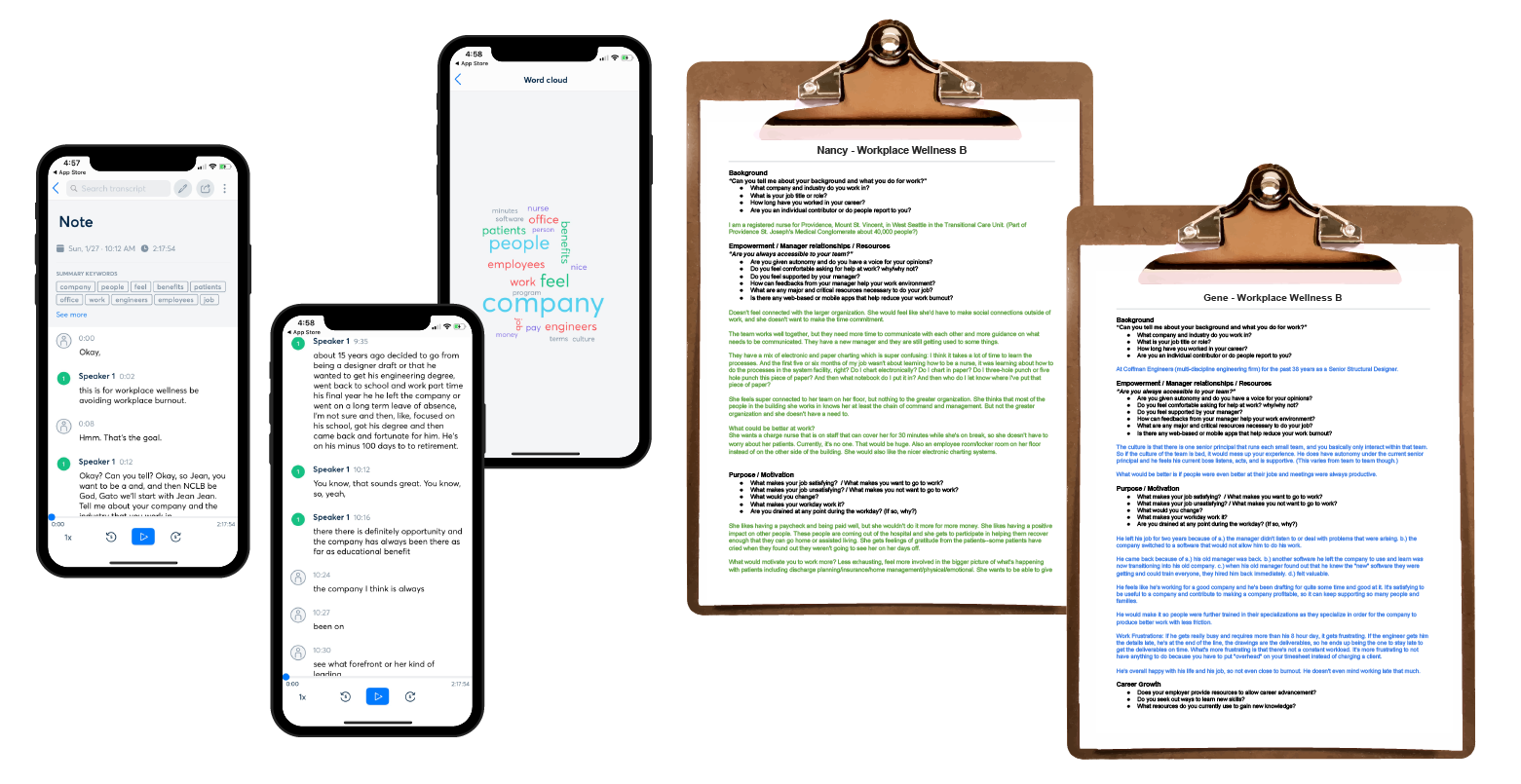 We put up different thoughts we gathered from our interviews on the board and categorized them to organize ideas and see if we could zero in on something worth creating to address workplace burnout and inspire gratitude and social support.
One idea was that there was an imbalance in the power dynamic in the standard corporate model and if we could figure out a way to level the playing field, psychological wellness would eventually follow, but didn't quite address inspiring gratitude and social support.
Having found that meditation and wellness tips didn't do much to change behavior and was more like a bandaid that didn't address the greater problem, we looked toward what could generate social support and had another idea of building community.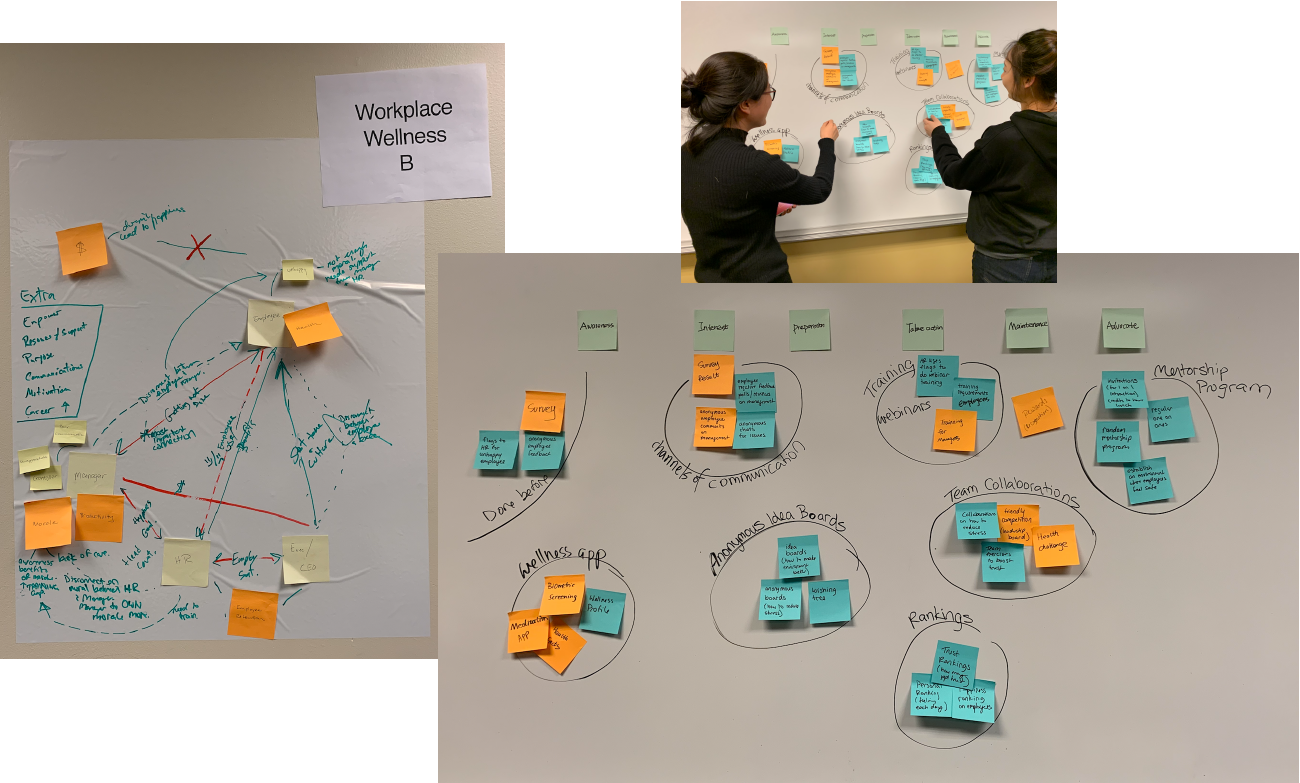 Below, we came up with two behavioral archetypes to show the dynamic between manager and employee. We worked on teams to come up with each of the archetypes, and later I proofread them and did some additional editing.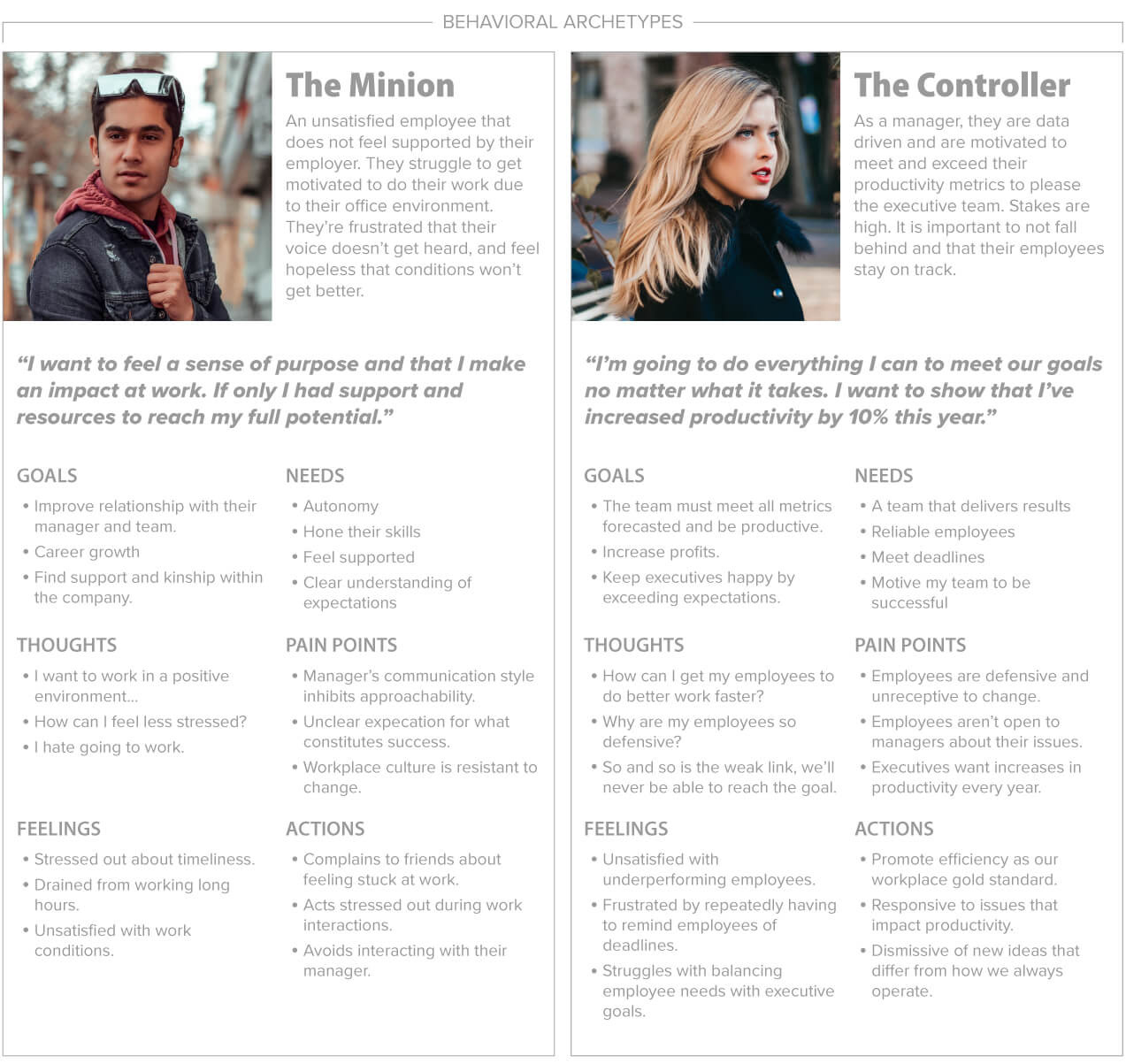 Below was our ideation workshop to come up with a creative brief for interest groups to promote company community. The discussions we had lasted all morning and most of the afternoon, but at the end of the day, we all agreed on what to create for the first prototype. We had done the research, created some ideas, and was able to present our creative brief for critiques.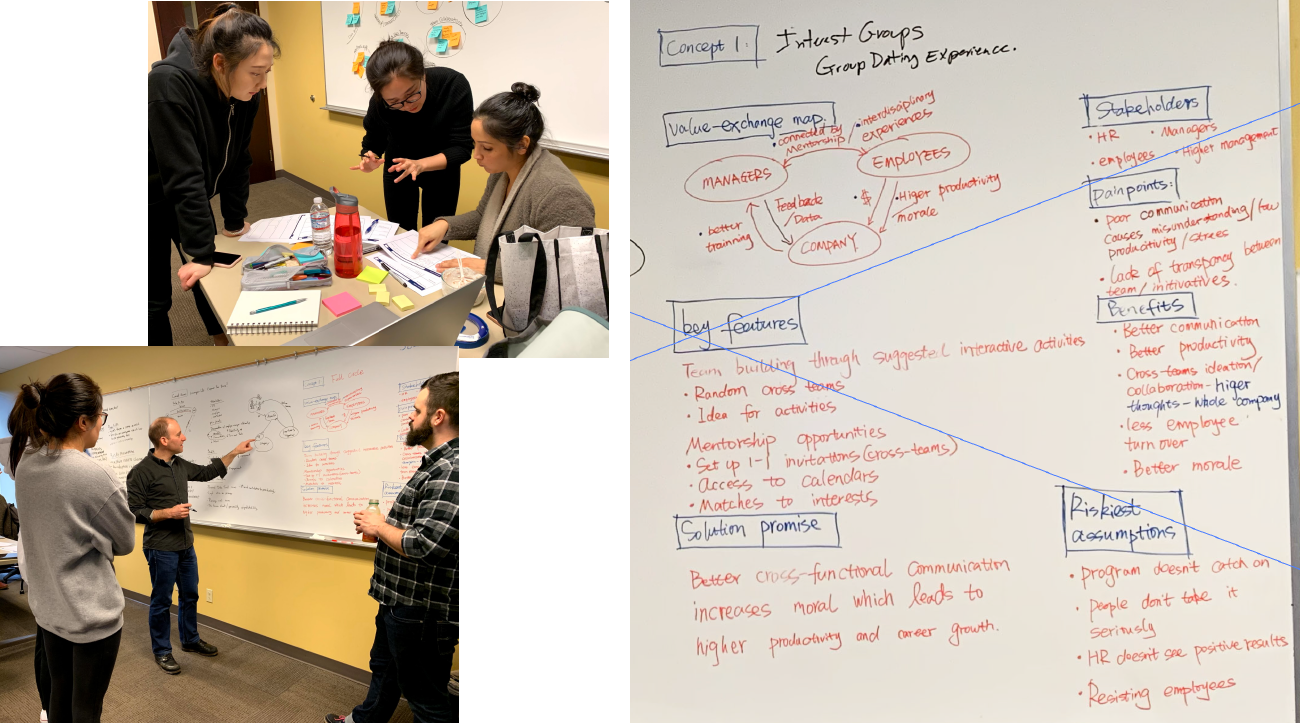 Our low fidelity design prototype on paper: 

This prototype was called "the Hive" and was concept tested four times for desirability and we got a lot of great feedback that both ironed out inconsistencies in the product and gave us insights into how individuals can differ how they use mobile applications. We took turns moderating, writing down comments, and testing other groups' products which let us experience concept testing from all perspectives.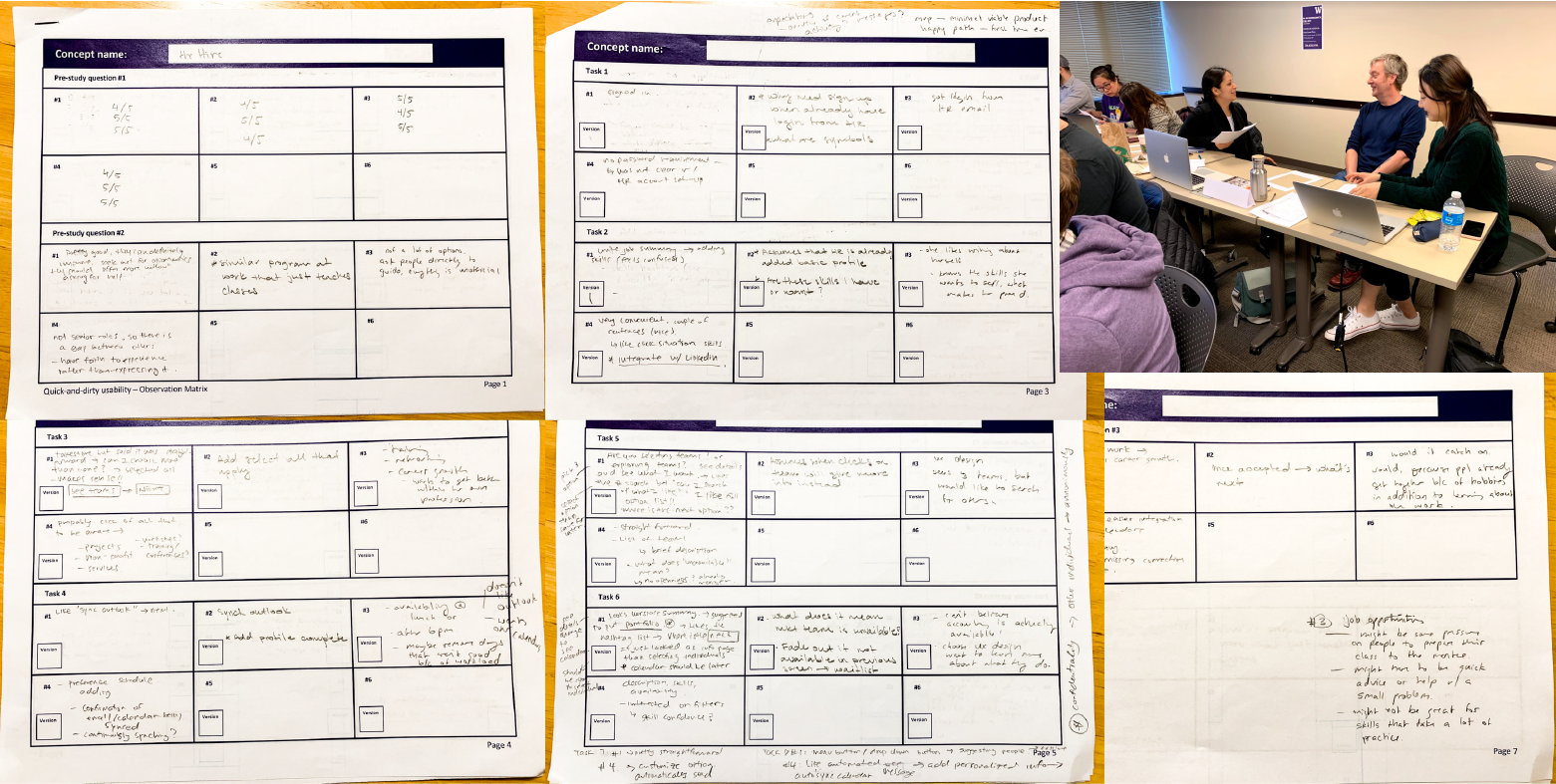 Applied UX Design, Course 02
In course 2, we transitioned from group work to working individually. Our instructor, Mike Kelly, gave everyone the option to either
continue on the p
roject from course 1 or start a new project. I chose to use our group's research findings and continue working on the "Workplace Wellness" problem statement.
I did some more research and thought more about the concept of feeling gratitude and social support in the workplace and came up with my own take on the product which sets up one on one random networking in the company to build community with people you are unlikely to meet yourself like executives meeting production people or someone from marketing talking to someone in R&D. I chose one on one encounters rather than group encounters because less extroverted people could be sidelined on group encounters and not get as much out of the experience. One on one encounters also gives you the best chance of making meaningful connections with other people which might later build a sense of community and contribute to the feeling of gratitude and social support at work.
In Applied UX Design, Mike introduced us to Information Architecture and in Overflow, I put together a site map in order to organize the information in a way that made sense, and make sure navigation was in order before proceeding to the next step.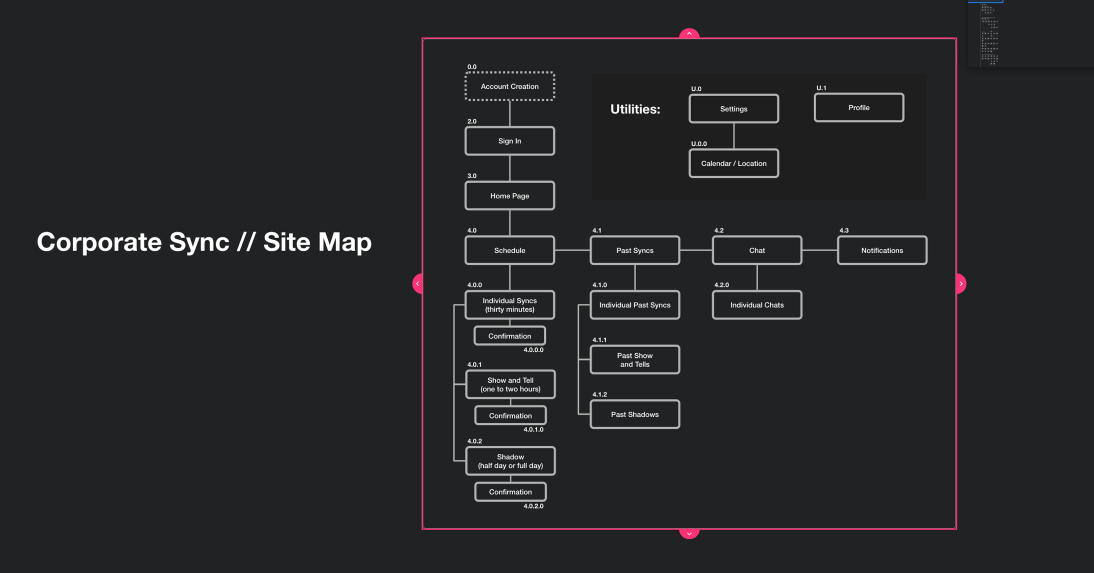 Also in overflow, I created user flow examples to iron out all the possible kinks. The goal of my users were to initiate setting up a new connection, or "Sync", or accept a new connection. They then had to set up a time/place to meet with the other person. I took into consideration different types of users in different situations and did my best to streamline each of their processes.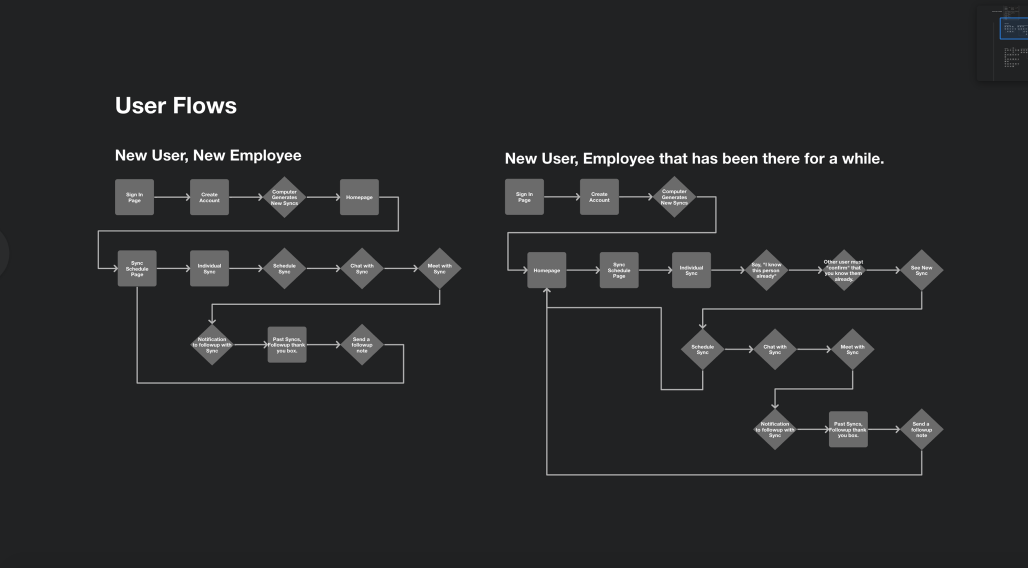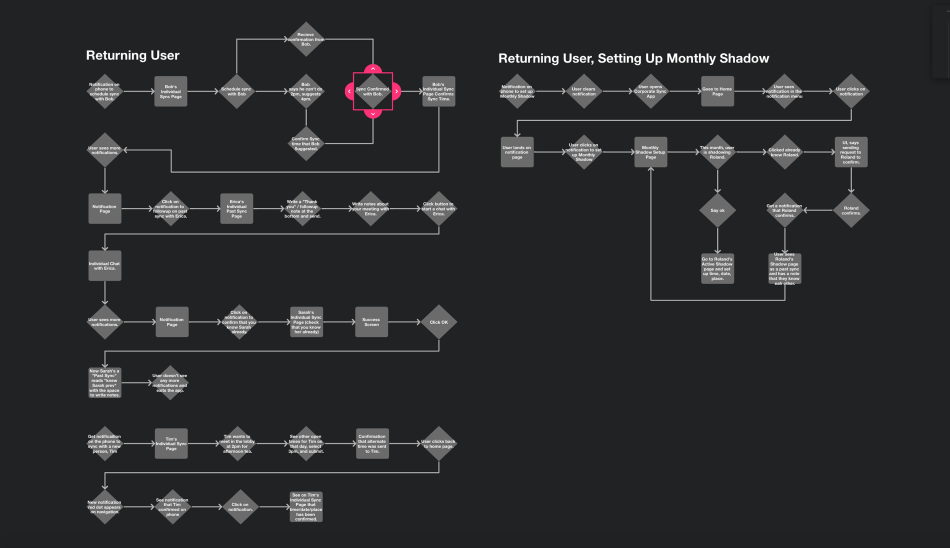 I completed the second class by developing wireframes for "Sync" in Sketch based on our user flows and site maps. I exported the wireframes to InVision as prototypes in order to test user flows and be able to bridge any gaps that may arise. I fixed issues as they arose and added and removed screens and/or information as needed.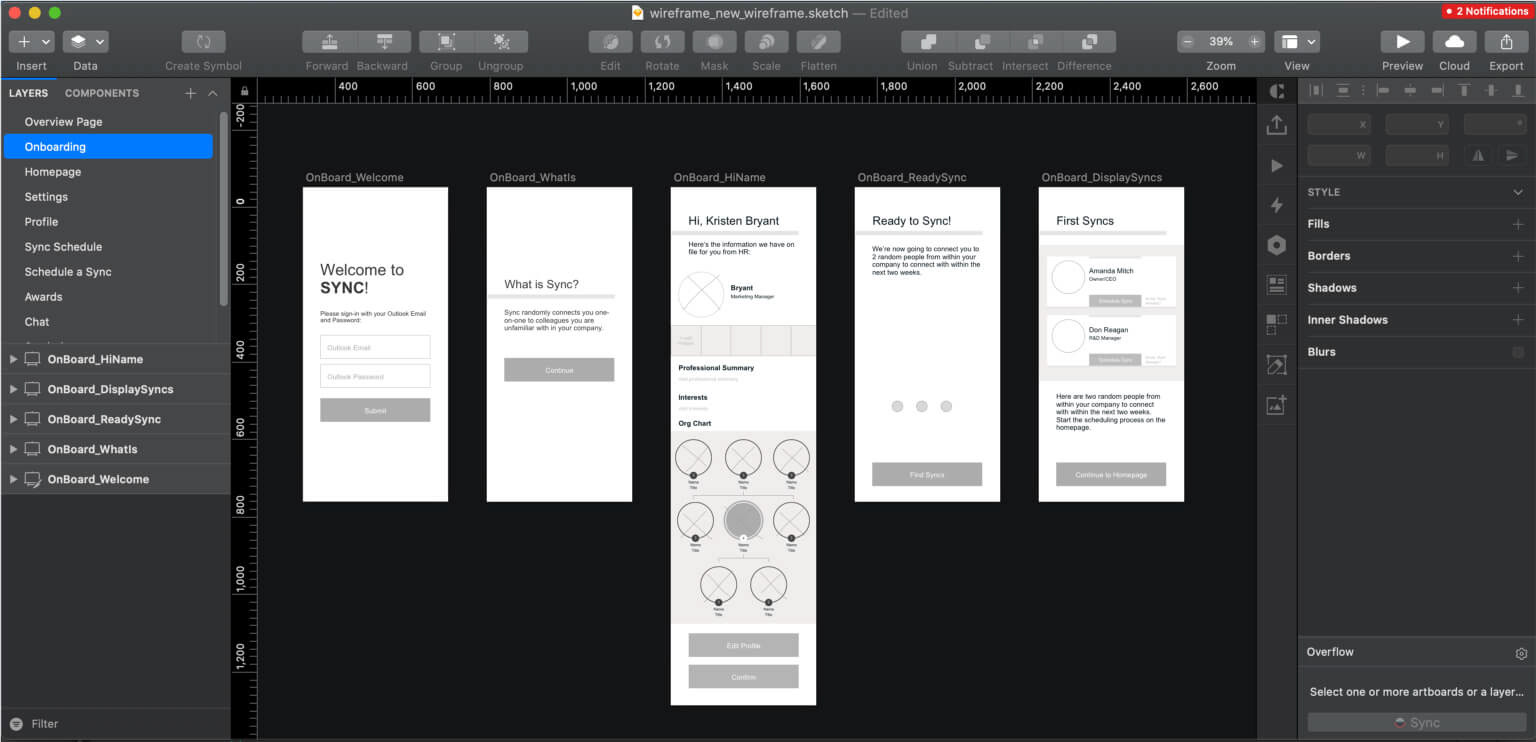 Integrating UX with Interactive Visual Design, Course 03
In course 3, Integrating UX with Interactive Visual Design, I continued working on "Sync" and added visual design and user interface design to my Wireframe.
Below are two of the four moodboards I created for the product.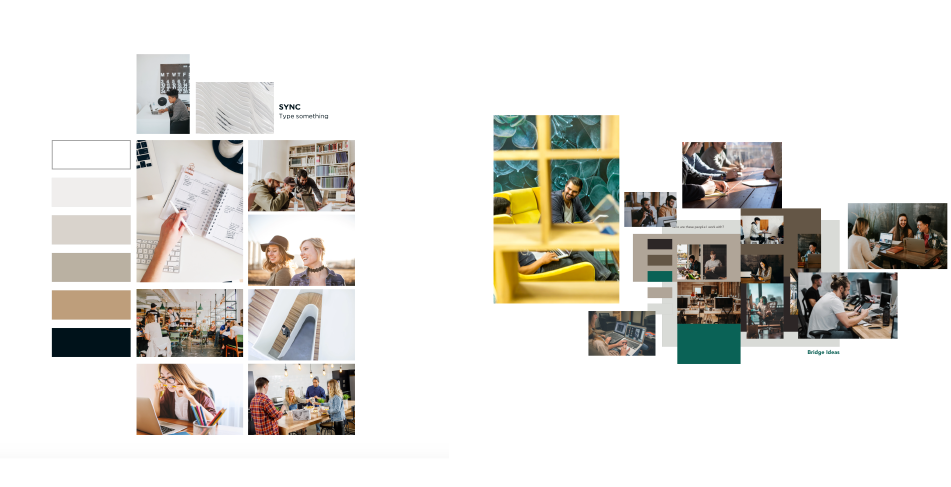 Here is the final moodboard complete with fonts and card styling. I wanted to invoke a professional vibe while still keeping things fun and light for both men and women. The faded pink/orange mix brings a muted enthusiasm that is complemented by the dark blue text and flat modern UI style. I chose the serif font to give it a sense of authority and seriousness to deter people from being no-shows to the meetings.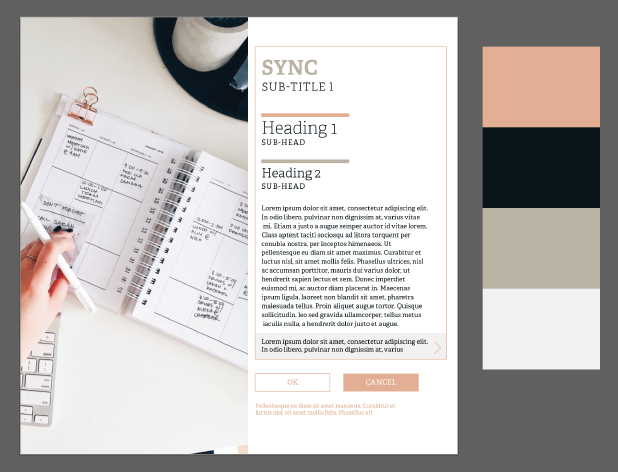 I then added the look and feel to the prototype from our second class to finalize the UI. Below you can see a video of the final prototype.
Here are screenshots from my capstone presentation: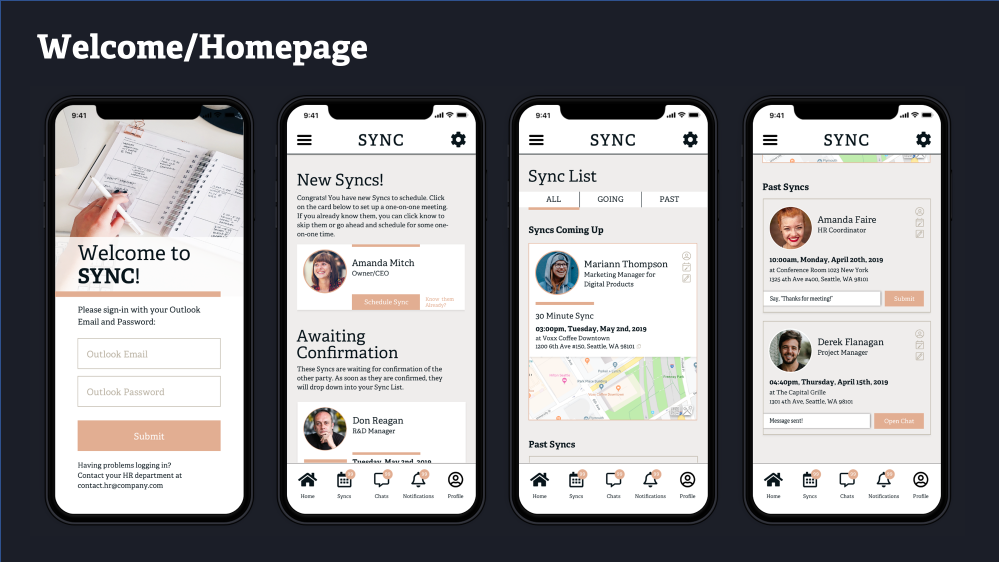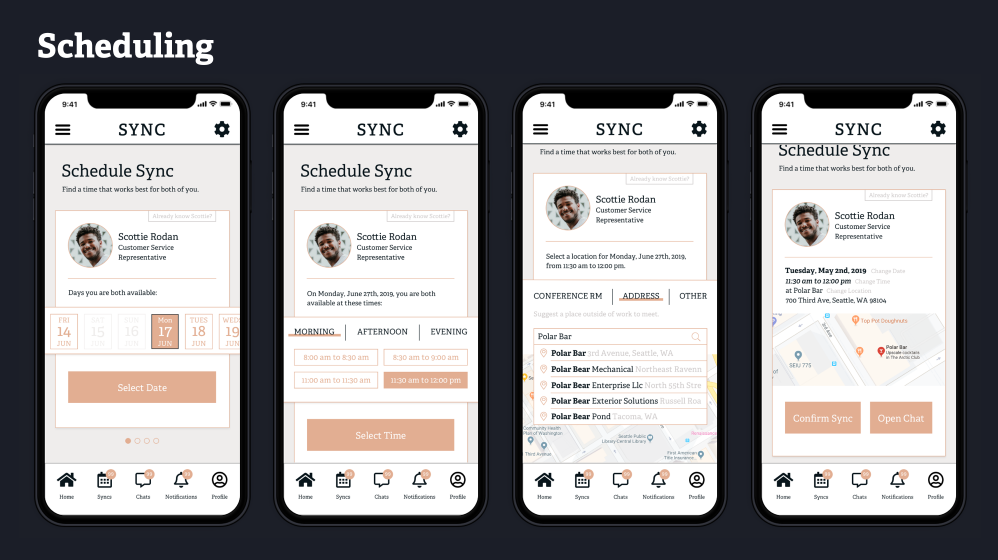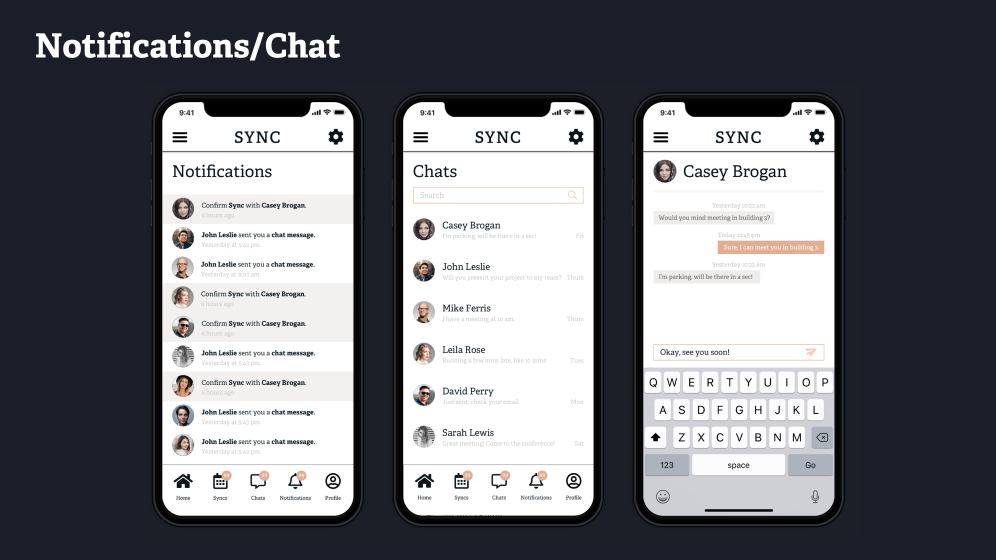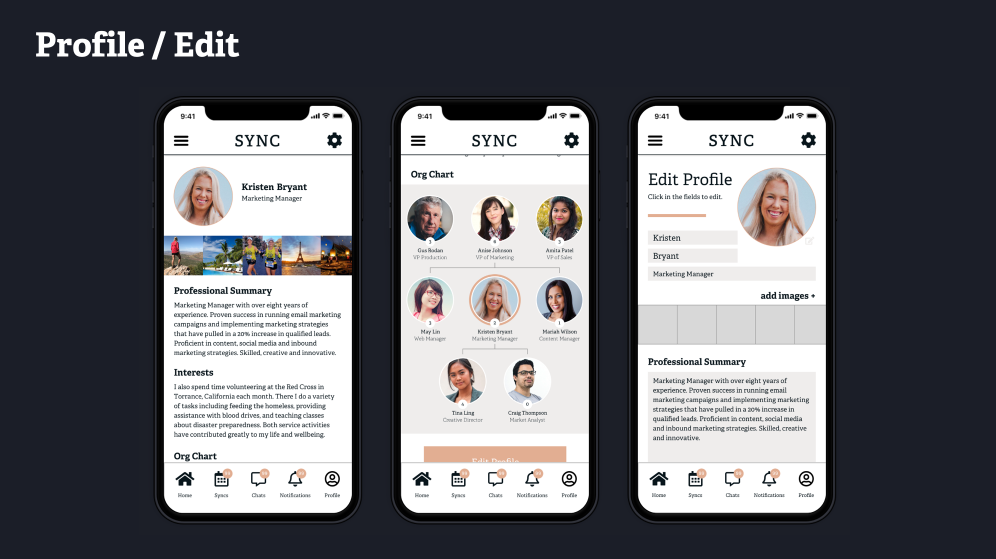 Thanks go to Anthony Boyd for his beautiful mockup files! https://www.anthonyboyd.graphics